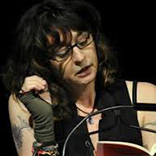 Kim Addonizio (born Kim Addie, July 31, 1954, Bethesda, Maryland) is an award-winning American poet and novelist.
Kim Addonizio was born in Washington DC, the daughter of a former tennis champion and a sports writer. She attended college in San Francisco, earning both her BA and MA from San Francisco State University, and has spent much of her adult life in the Bay Area. She currently lives and teaches workshops in Oakland, California. Addonizio has received numerous awards for her work, including fellowships from the Guggenheim Foundation and the National Endowment for the Arts, a Pushcart Prize, and the John Ciardi Lifetime Achievement Award. Addonizio's poetry, known for its gritty, street-wise narrators and a wicked sense of wit, has received significant recognition since it first appeared as The Philosopher's Club (1994), a collection of unflinching poems on subjects ranging from mortality to love. Daniela Gioseffi, writing in the American Book Review, affirmed that Addonizio "is wise and crafty in her observations and her portrayal of sensual love, filial feeling, death or loss." Gioseffi contended that Addonizio "is most profound when she's philosophizing about the transient quality of life and its central realization of mortality."
31-YEAR-OLD LOVER
Kim Addonizio
When he takes off his clothes
I think of a stick of butter being unwrapped,
the milky, lubricious smoothness of it
when it's taken from the fridge still hard
the way his body is hard, the high
tight pectorals, the new dimes of the nipples pressed
into his chest, the fanning of the muscles underneath.
I look at his arms, shaped as though a knife
has slid along the curves to carve them out,
deltoids, biceps, triceps, I almost can't believe
that he is human—latissimus dorsi, hip flexors,
gluteals, gastrocnemius—he is so perfectly made.
He stands naked in my bedroom and nothing
has harmed him yet, though he is going
to be harmed. He is going to have a gut one day,
and wiry gray hairs where the soft dark filaments
flow out of him, the cream, of his skin is going
to loosen and separate slowly, over a low steady flame
and he has no idea, as I had no idea,
and I am not going to speak of this to him ever,
I am going to let him stretch out on my bed
so I can take the heavy richness of him in
and in, I am going to have it back the only way I can.