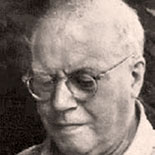 Conrad Potter Aiken (August 5, 1889 – August 17, 1973) was an American writer, whose work includes poetry, short stories, novels, a play, and an autobiography.
Aiken avoided military service during World War I by claiming that, as a poet, he was part of an "essential industry". During the 1920s and 1930s Aiken traveled extensively between England and North America and married three times, once to Jessie McDonald, then to Clarissa M. Lorenz and later the artist Mary Hoover.
Most of Aiken's poetry reflects an intense interest in psychoanalysis and the development of identity. Of the many influences Aiken acknowledged, the writings of Freud, William James, Edgar Allan Poe, and the French Symbolists are most evident in his work.
Aiken was Poetry Consultant to the Library of Congress (now the U.S. Poet Laureate) from 1950-52. His other honors included the Bollingen Prize, the Gold Medal in Poetry from the American Academy of Arts and Letters, and a National Medal for Literature.
THE QUARREL
Conrad Aiken
Suddenly, after the quarrel, while we waited,
Disheartened, silent, with downcast looks, nor stirred
Eyelid nor finger, hopeless both, yet hoping
Against all hope to unsay the sundering word:
While all the room's stillness deepened, deepened about us
And each of us crept his thought's way to discover
How, with as little sound as the fall of a leaf,
The shadow had fallen, and lover quarreled with lover;
And while, in the quiet, I marveled—alas, alas—
At your deep beauty, your tragic beauty, torn
As the pale flower is torn by the wanton sparrow—
This beauty, pitied and loved, and now forsworn;
It was then, when the instant darkened to its darkest,—
When faith was lost with hope, and the rain conspired
To strike its gray arpeggios against our heartstrings,—
When love no longer dared, and scarcely desired:
It was then that suddenly, in the neighbor's room,
The music started: that brave quartette of strings
Breaking out of the stillness, as out of our stillness,
Like the indomitable heart of life that sings
When all is lost; and started from our sorrow,
Tranced from our grief by that diviner grief,
We raised remembering eyes, each looked at other,
Blinded with tears of joy; and another leaf
Fell silently as that first; and in the instant
The shadow had gone, our quarrel became absurd;
And we rose, to the angelic voices of the music,
And I touched your hand, and we kissed, without a word.