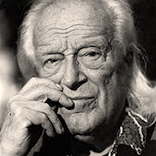 Rafael Alberti Merello (December 16, 1902 – October 28, 1999) was a Spanish poet, a member of the Generation of '27. He is considered one of the greatest literary figures of the so-called Silver Age of Spanish Literature, and he won numerous prizes and awards. He died  at the age of 96. After the Spanish Civil War, he went into exile because of his Marxist beliefs. On his return to Spain after the death of Franco, he was named Hijo Predilecto de Andalucía in 1983 and Doctor Honoris Causa by the Universidad de Cádiz in 1985.
SONG 39
Rafael Alberti
The candles have shed
every tear they had.
They can't cry anymore.
I begin to see. Darkness
is my only company.
The burning darkness.