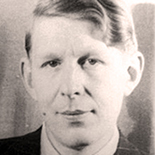 Wystan Hugh Auden (February 21, 1907 – September 29, 1973), who published as W. H. Auden.
He was an Anglo-American poet, born in England, later an American citizen, regarded by many critics as one of the greatest writers of the 20th century. His work is noted for its stylistic and technical achievements, its engagement with moral and political issues, and its variety of tone, form and content.The central themes of his poetry are love, politics and citizenship, religion and morals, and the relationship between unique human beings and the anonymous, impersonal world of nature.
THE MORE LOVING ONE
W. H. Auden
Looking up at the stars, I know quite well
That, for all they care, I can go to hell,
But on earth indifference is the least
We have to dread from man or beast.
How should we like it were stars to burn
With a passion for us we could not return?
If equal affection cannot be,
Let the more loving one be me.
Admirer as I think I am
Of stars that do not give a damn,
I cannot, now I see them, say
I missed one terribly all day.
Were all stars to disappear or die,
I should learn to look at an empty sky
And feel its total dark sublime,
Though this might take me a little time.