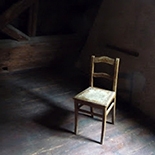 Richard Biessing, Professor of English at the University of Washington, born in Pennsylvania on September 11, 1939. Blessing was educated at Hamilton College in Clinton, New York where he also won football All-America honors as a quarterback.
In addition to poetry. he has published a number of articles and two books of criticism, Wallace Stevens' "Whole Harmonium" (Syracuse University Press, 1970) and Theodore Roethke's Dynamic Vision (Indiana University Press. 1974).
YOUR POEM
Richard Blessing
Love. between your reaching life and mine
all space closes by halves forever
You are the tortoise no strong man will catch.
the angel vanishing at the eye's quick edge.
Today the stars cry out like blackening leaves:
tomorrow are stillborn our miraculous children
I am afraid to taste the sound of your name.
afraid of the light that rims your shadow
Love. there are those who arrive by saying good-by.
I will open the door if no one is home.
If no one is home. I will walk in a little.
leaving the dark in the way that I find it.
leaving my kiss like a note on the table.
Deeper and deeper I step into your absence
like a silence on the roof in a season of rain.