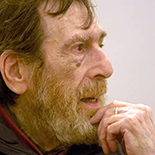 Russell Edson (April 29, 1935 – April 29, 2014) was an American poet, novelist, writer and illustrator, and the son of the cartoonist-screenwriter Gus Edson.
He studied art early in life and attended the Art Students League as a teenager. He began publishing poetry in the 1960s. His honors as a poet include a Guggenheim fellowship and several fellowships from the National Endowment for the Arts.Called the "godfather of the prose poem in America," Russell Edson's idiosyncratic body of work is populated with strange and intriguing figures: a woman fights a tree, a mother serves ape; in the poem "Let Us Consider," there's a "farmer who makes his straw hat his sweetheart" and an "old woman who makes a floor lamp her son." The poems are surreal and fablelike, sometimes resembling brief plays. Donald Hall has said of Edson's poetry, "It's fanciful, it's even funny—but his humor carries discomfort with it, like all serious humor." Peter Schejeldahl has pointed out that his poems have "the sustained wackiness of old Warner Brothers cartoons."
In the 1960s he began publishing poetry; since then, he has received fellowships from the Guggenheim Foundation and the National Endowment for the Arts.
CONJUGAL
Russell Edson
A man is bending his wife. He is bending her around something that she has bent herself
around. She is around it, bent as he has bent her.
He is convincing her. It is all so private.
He is bending her around the bedpost. No, he is bending her around the tripod of his camera.
It is as if he teaches her to swim. As if he teaches acrobatics. As if he could form her into something wet that he delivers out of one life into another.
And it is such a private thing the thing they do.
He is forming her into the wallpaper. He is smoothing her down into the flowers there. He is finding 
her nipples there.
And he is kissing her pubis there. 

He climbs into the wallpaper among the flowers. And his buttocks move in and out of the wall.