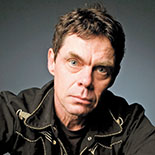 Richard "Rich" Hall (born June 10, 1954) is an American comedian, writer, and musician, first coming to prominence as a sketch comedian in the 1980s.
He wrote and performed for a range of American networks, in series such as Fridays, Not Necessarily the News (popularising the "sniglet" neologism), and Saturday Night Live.
After winning a Perrier Comedy Award in 2000, using the character of Tennesseean country musician Otis Lee Crenshaw, Hall became popular in the United Kingdom, regularly appearing on QI and similar panel shows. He has created and starred in several series for the BBC, including comedies with Mike Wilmot, and documentaries often concerning cinema of the United States. Hall has also maintained a successful stand-up comedy career, as both Crenshaw and himself.