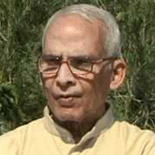 Brajanath Ratha (January 12, 1936 – May 31, 2014) was an Indian poet who wrote in Oriya. Brajanath Ratha is internationally recognised and is the recipient of many prestigious awards like the Orissa Sahitya Academy Award, Vishuba Award, Gokarnika Award, First Shudramuni Sahitya Award and Honoured by South Korea's Ambassador, from Global Cooperation Society International, Seol, Republic of Korea for Contribution in World welfare, Cooperation and Services.
Ratha awarded Tagore Literature Awards in 2010 for Samanya Asamanya, a poetry collection containing three types of poems progressive, satirical and philosophical. This unique collection carries the message of hope to mankind. His first poem was written to welcome India's independence in 1947. He has been conferred with the highest honours from the Orissa Sahitya Academy Award for Manara Manachitra (Map of the Mind) to the Silver Jubilee Award for poetry by Prajatantra Prachar Samiti, Cuttack.
THE FALLEN LEAF
Brajanath Ratha
O my fallen leaf of Pausanias
why did you fall
forgetting your cradling
on the green boughs?
Is the kiss of the grey earth
sweeter, dearer
than
the blue embrace of the sky?
Last spring
when you came
as a new bride
drenched in shame
wearing a pink saree,
to welcome you
the sweet moaning shehnai of
lakhs of bees echoed;
but
today
when you fall silently
why are these tears of sorrow
in the eyes of Pausanias?
O fallen leaf,
Pausa's fallen leaf,
what have you left for me:
the embrace of the blue sky
or
the kiss of the grey earth?