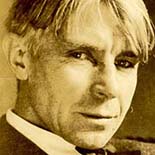 Carl Sandburg (January 6, 1878 – July 22, 1967) was an American writer and editor, best known for his poetry. He was the recipient of three Pulitzer Prizes: two for his poetry and another for his biography of Abraham Lincoln. H. L. Mencken called Sandburg "indubitably an American in every pulse-beat".

CHOOSE
Carl Sandburg
The single clenched fist lifted and ready,
Or the open asking hand held out and waiting.
Choose:
For we meet by one or the other.