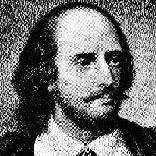 William Shakespeare (Baptized April 26, 1564 – April 23, 1616) was an English poet and playwright.
He is widely regarded as the greatest writer in the English language and the world's pre-eminent dramatist. Shakespeare is often called England's national poet and the "Bard of Avon". His work, including some collaborations, consist of about 38 plays, 154 sonnets, two long narrative poems, two epitaphs on a man named John Combe, one epitaph on Elias James, and several other poems. His plays have been translated into every major living language and are performed more often than those of any other playwright.
(excerpt from Romeo and Juliet, Act III, Scene II)
And, when he shall die,
Take him and cut him out in little stars,
And he will make the face of Heaven so fine
That all the world will be in love with night
And pay no worship to the garish sun.