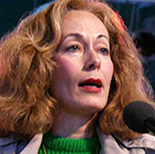 Daisy Zamora (June 20, 1950) is one of the most prominent figures in contemporary Latin American poetry.
Her work is known for its uncompromising voice and wide-ranging subject matter that dwells on the details of daily life while encompassing human rights, politics, revolution, feminist issues, art, history and culture. She was raised in a wealthy liberal and politically active family. She attended convent schools and studied at the Universidad Centroamericana in Nicaragua where she earned a degree in psychology.
VISION OF YOUR BODY
Daisy Zamora
In the dimly lit room
I had a brief glimpse of bliss:
sight of your body
like a god reclining.
That was all.
Quite unaware
you got up to get your clothes
just naturally
while I shuddered
like the earth split open by lightning.